International Meistersinger Akademie
"Fertig mit dem Master-Studium bei Edith Wiens in New York ist Felicia Moore. Mit wenigen Bewegungen und blitzenden Blicken unterstüzt sie die Wirkung ihrer fulminanten Stimme als "Freischütz"- Agathe: ein jugendlich-dramatischer Sopran mit viel Potenzial- da bebt der Reitstadel."
"Felicia Moore is finished with her studies with Edith Wiens in New York. With few movements and sparkling glances she supports the effect of her brilliant voice as "Freischütz" - Agathe: a youthfully dramatic soprano with a lot of potential - the Reitstadel shakes." Neumarkt in der Oberpfalz Newspaper
"Dafür aber im deutschen Repertoire zwei räum- und rollenfüllende Sängerinnen mit besten Karriere-Aussichten: absolut souverän und mit triumphaler Höhe sang Felicia Moore, die dieses Jahr ihren Master bei Edith Wiens in New York gemacht hat, die große Arie der Ariadne von Richard Strauss. Dem war nichts hinzuzufügen."
"But in the German repertoire there were two full and complete female performers with the best career prospects: Felicia Moore, who completed her studies with Edith Wiens in New York this year, sang with absolute confidence and with triumphant magnitude, the great Ariadne aria by Richard Strauss. There was nothing to add." Neumarkt in der Oberpfalz Newspaper
Heartbeat Opera's Don Giovanni
"Felicia Moore (Donna Elvira) stood out among a cast of capable voices. She managed Elvira's leaping coloratura accurately, led the orchestra with clear diction, and sculpted notoriously challenging phrases expressively. She sang spontaneously within the rigid demands of Mozartian style." Jeremy Hirsch, Schmopera
"Felicia Moore brought a steely fury to Donna Elvira." Heidi Waleson, The Wall Street Journal
"Elvira was still a vengeful fury, but her abiding lust for Giovanni constantly battled for dominance, and one got the sense that if she did successfully excise his heart, she might eat it. Felicia Moore's Elvira offered the ideal mix of steel, beauty and vehemence." Joanne Sydney Lessner, Opera News
"Donna Elvira (George London award-winning soprano Felicia Moore) was substantial in every way, vigorously demanding vengeance and warning off the flailing Donna Anna." Leslie Kandell, Classical Voice America
"Amongst a cast of excellent performances, Felicia Moore as Donna Elvira deserves a special nod not only for the range of her singing, but also for the range of her emotions." Steven Pisano, Feast of Music
"Vor allem die Frauen (waren) gut...Felicia Moores klangvoll-bewegender Elvira." Wiebke Roloff, Opernwelt
"The Donna Elvira of soprano Felicia Moore, whom we know very well from her extraordinary work at Juilliard, was not a comic figure played for derision. Her work was authentic and sincere; she created a believable portrait of a woman who genuinely cares about a worthless man and also cares about rescuing Zerlina from his clutches. The timbre of her voice and her astute phrasing convinced us of her value as a human being, the kind of woman we know as a "rescuer". Her "Mi tradì quell'alma ingrata" was superb." Voce di Meche
"The best things about the musical performance were the three principal women, Leela Subramaniam, Felicia Moore and Samarie Alicea." John Rockwell, Financial Times
"And the most well-sung of the three in this production, soprano Felicia Moore's Donna Elvira was more than a harping shrew, but a woman deserving of respect." Joel Rozen, Parterre
Schwabacher Debut Recital

"Moore's voice [was] transfixing, marked by tonal brilliance and emotional eloquence." Joshua Kosman, SF Gate
"Merola may have trained both Pursell and Moore for opera, but neither of them showed the slightest difficulty in applying their technical skills to an art song setting. Indeed, both of them clearly knew how to use body language to capture those narrative elements reflected in each of Tieck's
poems." Stephen Smoliar, The Rehearsal Studio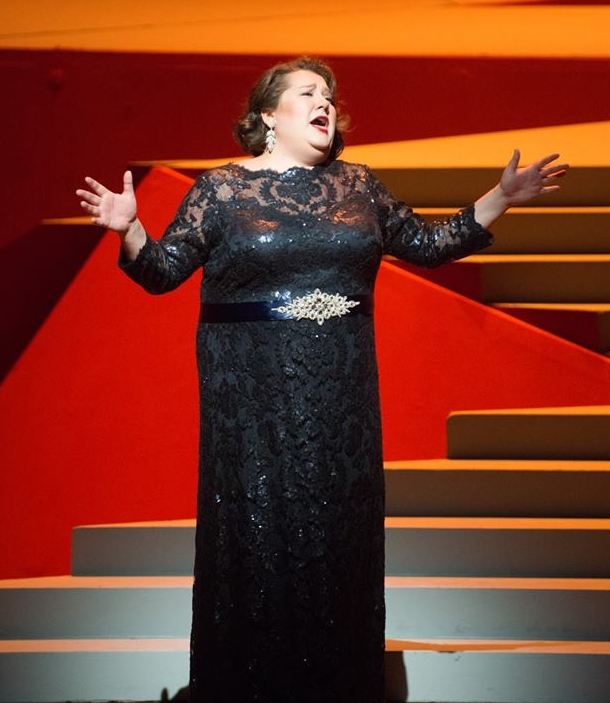 Merola Opera Program

"Darker-toned soprano Felicia Moore as Agathe...won a knockout in [Der Freischütz], filling the dry acoustics of the Hall with a limpid tone that still bloomed with color." Philip Campbell, Bay Area Reporter
"The concert yielded [a] standout performance by Felicia Moore as Agathe in Freischütz." Georgia Rowe, The Mercury News
"'Dich, teure Halle' was brilliantly sung by soprano Felicia Moore." James Roy MacBean, The Berkeley Daily Planet
Juilliard Opera's Katya Kabanova

"Felicia Moore unfurled a striking instrument as Kát'a, using a pronounced vibrato to cut through the orchestra but retaining pure sound on sustained phrases. She moved well and proved a skilled vocal actress, layering the character's temptation and guilt." David Shengold, Opera News
"In this role, soprano Felicia Moore provided a complex and nuanced portrait of this troubled girl who becomes a woman and finally, a tragic heroine in the opera's final pages. Ms. Moore had the acting equipment to play Kát'a's voyage of self-discovery. This came out in the two big Act II duets with her sister-in-law Varvara and her lover Boris. In the great final liebestod that comes before her watery death, Ms. Moore proved unafraid of the role's upper reaches and elevated this simple story from family drama to genuine pathos." Paul J. Pelkonen, Culture Magazine
"The emotional complexities came through strongly on Friday night...and not just because the soprano Felicia Moore, as Katya, sang so expressively...She was at her best during the final scene, when the guilt-ridden, distraught Katya imagines her grave being visited by birds and then drowns herself in the river." Anthony Tommasini, The New York Times
"As Káťa, the woman trapped in an unhappy marriage who falls in love and can't cope with the consequences of her actions, soprano Felicia Moore had great presence and displayed a powerful and flexible voice...she conquered with ease the difficulties of the score... Moore's interpretation announces a talent to be followed closely." Edward Sava-Segal, Bachtrack
"Felicia Moore lent a tangy lyric soprano and sympathetic presence to the eponymous Katya's soaring, then pained daydreams of flying and romantic love; savoring of her 'illicit,' impassioned tryst with Boris, when Tichon is away; conveying her guilt and then confessing, to the forgiving—and not—Tichon and implacable Kabanicha; and finally, bringing pathos to her suicide aria, before she jumps into the Volga River." Bruce-Michael Gelbert, [Q] on Stage
"The lead role was sung by soprano Felicia Moore, whom we so much admired recently in a Mozart concert aria, was most affecting in the emotional final scene." Voce di Meche
Mozart's "Ch'io mi scordi di te?" at Alice Tully Hall

"Soprano Felicia Moore is as ample of voice as she is of stature, commanding the stage and owning the work. Her resonant voice filled Alice Tully Hall with overtones, the very molecules of air vibrating. There was plenty of bloom on top with substantial weight in the lower register. Ms. Moore has such command of technique that she was able to submerge herself in the text and to lean into certain notes with consummate expressivity. The various sections were differentially colored, lending the work enormous dramatic impact." Voce di Meche
The Gerda Lissner Lieder/Song Competition Winners Concert
"Felicia Moore sang "La chevelure" from Chansons de Bilitis by Claude Debussy. "I was stroking your hair but it was my own." Ms. Moore's soprano has sensuality, vitality, some good floated tones and a hint of Verdi down the road." Nino Pantano, Brooklyn Discovery
Opera Theatre of Saint Louis' Emmeline

"[James] Robinson's signal achievement here lay in the performances he drew from his cast: this was a true acting ensemble, working to bring Emmeline's drama to life...As Emmeline's sister, Harriet, Felicia Moore (a member of OTSL's Gerdine Young Artist program) offered a vivid study in petulant malice." Fred Cohn, Opera News
"As the mean-spirited sister Harriet, Felicia Moore was every inch the woman-we-love-to-hate. Her solid singing was tinged with spite and provocation." James Sohre, Opera Today
Mannes Opera's Double Bill
Suor Angelica & Gianni Schicchi

"Senza mamma, o bimbo, tu sei morto!" She sang, throwing her hands up to the sky. The...pain in her voice gathered strength and, upon hitting a high devastating note, cascaded through the Kaye Playhouse at Hunter College. Her grief lingered as the audience erupted in thunderous applause. The aria was one of many heart-stopping moments. Moore's expressive singing brought the character's breakdown to life." The New School Blog
"Gianni Schicchi was pretty close to perfect...The singers playing Buoso Donati's grasping relatives crafted uniquely quirky characters within a vividly drawn family dynamic, and they also played off one another like a well-oiled ensemble...Felicia Moore was an amusingly single-minded Nella, and her gleaming soprano stood out in the women's trio." Joanne Sydney Lessner, Opera News
Barber's Knoxville: Summer of 1915

"The soprano was Felicia Moore, who deserves a paragraph to herself. This New York-based vocalist has a powerful upper register and a dark richness of timbre that is unusual in a dramatic singer this young. At times, one is reminded of the lushness of the best mezzo-sopranos. Also, one felt she was matching her sound to the intimate acoustic space of the Kittredge Theatre and holding in reserve even more power to let loose in a large opera house. Here is an impressive young artist to watch for in the future." Ted McIrvine, CVNC Journal
Mannes Opera's The Rape of Lucretia

"It is easier to accept those choruses [in The Rape of Lucretia] when they are performed by artists as firm-voiced and thoughtful as...the soprano Felicia Moore." Zachary Woolfe, The New York Times
Opera Index Winter Gala

"Soprano Felicia Moore sang "Morro, ma prima in grazia" from Verdi's Un ballo in Maschera with a robust vibrato and like the 19th century legends, a very mezzo sounding lower register and a higher register with brilliant bursts of glory." Nino Pantano, Brooklyn Daily Eagle
George London Foundation
George London Award Winner
"...soprano Felicia Moore who used her expansive instrument well in "Einsam in trüben Tagen" from Wagner's Lohengrin." Voce di meche